Shovel Adventure (Amstrad CPC)
SHOVEL ADVENTURE (AMSTRAD CPC)
Description
This game was made to participate in the prestigious contest CPC Retrodev 2021 and it is our first game for the Amstrad CPC computer.
You are Johnny Pallas, the legendary archeologist of Utrera. After your hardest researching job, you finally have found the mystery of the mysteries of ancient Egypt: the secret entrance to the Pharaom Lholha Flowers' chamber.
To get to the entrance, you have to enter in the big pyramid and found all the gems before the time is over. Only when you unearth all the gems, you can take the Ankh and the next chamber will be open.
40 chambers are waiting for you and your shovel before getting to the secret entrance... Are you ready to accept this challenge?
How to play
This is an Amstrad CPC 464 videogame. You can play it in a real CPC computer or using an emulator. We recommend Retro Virtual Machine (RVM) and Winape. Download the CDT file and run it.
Controls:
You can use keyboard or joystick to play the game. Control Johnny with the joystick and use the shovel with the fire button. The keys are:
O: Left
P: Right
Q: Up
A: Down
Space: Use shovel
Please, download the instructions manual for more details about the gameplay.
Authors and licenses
This game was made by the Pat Morita Team.
Original concept & Graphics: Igor Errazking
Music & SFX: McKlain
Code: A. Pérez
Testing: Perretes Group, Carlos Perezgrin, Anjuel
Special thanks to Nathan for helping always.
Video Trailers: Javier Fopiani
License: the included source code and all the libraries used for the game has a Creative Commons license.
Gesture
According to the CPC Retrodev rules, we included a gesture to Rainbow Island game. In this case, the immunity Power-up is a rainbow item.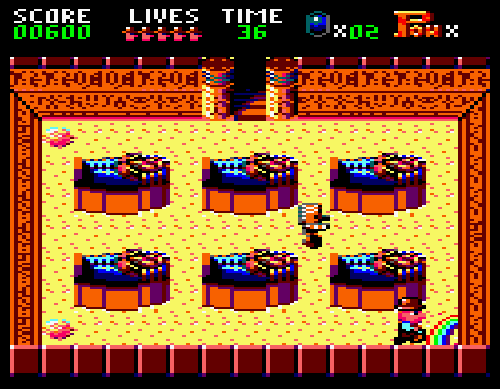 Download
Click download now to get access to the following files:
INSTRUCTIONS (PDF)
906 kB
EXTRA CONTENT (Source Code, License, etc)
26 MB
M4 SF2 SF3 COMPATIBLE (DSK & FILES)
79 kB
Comments
Log in with itch.io to leave a comment.
Congrats for this old good retro game :) It's an awesome job. I made a quick gameplay :
New masterpiece game for Amstrad CPC !
By the way, thanks for the files.
Thanks for the DSK!! Great game
CONGRATS Mates!!! & Thanks 4 the DSK ;)

Just reviewed this one on my channel, love it! Great job guys. - The Retro Revival Show
Thanks for reviewing our game and you liked it!
Maravilloso, el Oh mummy bien !!!
¡Gracias por el juego y por compartirlo claro, se ve chulo! ¿Tenéis pensado sacar versión .dsk?
Thanks! I've just played the game and it's very good, congratulations!
¡Muchas gracias! perdona que te contesté antes en inglés por pura ida de olla. :)
Jaja vale, al responderme en inglés, pensé que habría que hacer los comentarios también en inglés XD. Como he comentado también por Twitter, el juego tiene calidad top. Muy bueno.